Best Reviewed Movies In 2013: A+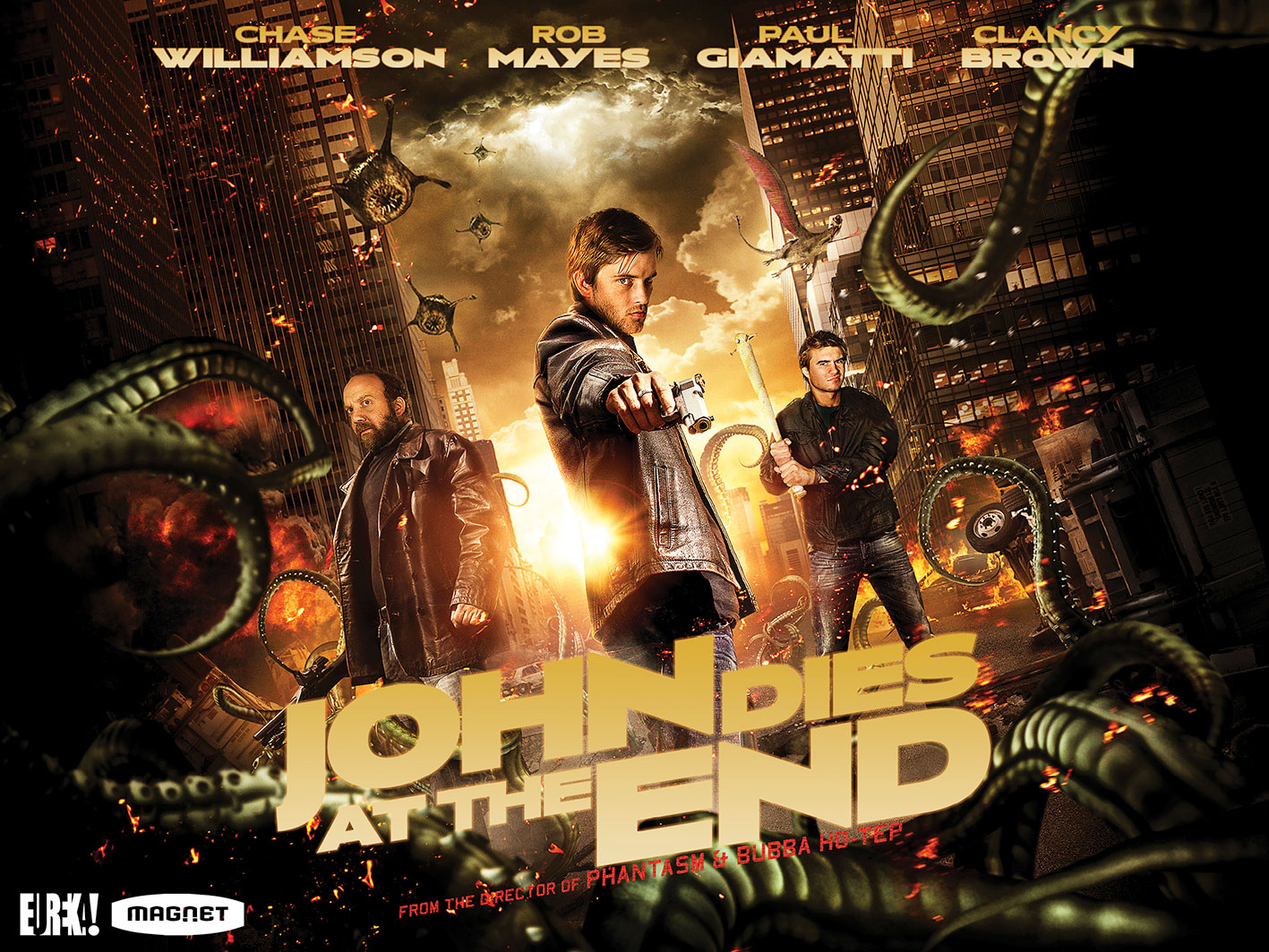 (
EVERY review linked under the cut!
Collapse
)
(
video link
)
Turns out these are the same guys who did the amazing soundtrack for the movie "Oblivion". Rewatching that movie recently I was struck by how much more effective that movie was made by its soundtrack, so it seems that the talents of M83 were a major factor in my enjoyment there.
(
video link
)
I suppose I'm probably the last person to hear about this, right? The latest Horroretc Podcast had this playing at the beginning and I instantly had to get it....
my review of "Tangled" here
) just felt entirely smothered and smooshed out by the clear suggestion that no one older than 5 would have any interest in this. The problem was the bizarre cuts straight after lines from the snowman character as if those were intended as fantastic one-liners.
Anyway since then
gothrockrulz
posted the following awesome scene. I've also heard wonderful stuff about the whole premise behind the snowman character on the Kermode and Mayo podcast which makes me a lot more interested in
that
character now. Frankly, they'd have been better off just using this scene as their advert for the movie:
(
video link
)
So here's the interesting bit. An ex-LJ blogger from my f-list
beckielric
has apparently
moved to tumblr
and it was there that I found this
awesome re-interpretation of the above video
. Check it out:
Okay so initially I saw the godawful trailer for "Frozen" and all the interest in another movie from the creators of Tangled (
The Night of the Hunter (1955)
This was quite a bizarre film in many ways. An old black and white film with a mixture of fairytale and Hitchcock. The 'hunter' in question is a crazy yet charming man claiming to be a preacher who roams the country preying on widows. Having only been caught with a stolen car, he finds himself in prison with a man imprisoned for murder and robbery and works out from what the man says in his sleep that thousands of dollars are hidden somewhere on the man's property.
(
Click here to read the rest of the review...
Collapse
)
4. The Moth Diaries (2011)
A new year begins at a boarding school where many of those attending are dealing with past traumas. Our protagonist, Rebecca, has an extremely close friend, Lucy, who she credits with her progress in coming to terms with the death of her father. But a new arrival at the school called Ernessa serves to drive them apart. Rebecca hates Ernessa from the start, but Rebecca's hatred serves to drive Lucy all the more to take an interest in her.
(
Click here to read the rest of the review...
Collapse
)
Grabbers (2012)
Weird monsters turn up in Ireland and Richard Coyle (from "Coupling" and the adaptation of Pratchett's "Going Postal") plays an alcoholic police officer in a small town where nothing ever happens. He must team up with Ruth Bradley, who plays a teetotaler who is more concerned with doing things properly. Some weird alien monsters appear and Russell Tovey (from "Being Human") plays a scientist who can help them analyse what to do with the alien.
(
Click here to read the rest of the review...
Collapse
)
6. Hostel (2005)
Ever since I discovered that "Saw" was not so much 'torture porn', but was actually highly derivative of "Se7en", I've been wondering whether "Hostel" would better fit the bill.
Now admittedly once we get to the fifth movie in the "Saw" series the films had become more of a case of traps with a boring irrelevant police drama surrounding them rather than genuinely seeming like they might have some kind of point to them. (Though I'm fairly sure the fans always believed that the police drama elements were leading to a satisfying conclusion that would tie everything up neatly. Even if I don't think the movie series ever really provided anything like that.)
So is "Hostel" more like 'torture porn'. Actually I'm not sure it is. I'd been surprised to hear that "Hostel" had been promoted by Quentin Tarantino considering its reputation, but in the light of "Inglourious Basterds" it actually makes a lot of sense (as I'll explain further on).
(
Click here to read the rest of the review...
Collapse
)
This is the fifth in a series of movie lists I've been making charting my favourite movies of each year (working steadily backwards).
My top films of 2008, 2009, 2010 and 2011 were the following:
Click here to see the full list for 2008
Click here to see the full list for 2009
Click here to see the full list for 2010
Click here to see the full list for 2011
5. Molière (2007)


UK release: 13 July 2007

"Molière" is an absolutely hilarious French film with an invented story to explain the rise of the eponymous French playwright. Certainly the idea is somewhat inspired by "Shakespeare In Love", but I found this film far superior. Romain Duris gives an electrifying central performance which holds together the farce-comedy storyline and the quirky characters. I loved every second of this.
Director Laurent Tirard's last film was "Astérix and Obélix: God Save Britannia". He does not appear to have made anything up to same standard as "Molière". However, the main star Romain Duris' next film is "The New Girlfriend" from director François Ozon. Ludivine Sagnier was recently in "Love Crime" alongside Kristin Scott Thomas and her next two upcoming movies are "Lou" and "Tristesse Club".
(
More favourites of 2007 under the cut...
Collapse
)
The Hunger Games: Catching Fire (2013)
There were mixed reviews for the first "Hunger Games" movie and so I was pretty surprised to find that I loved it. It wasn't the best film of that year, but it had a lot going for it and in spite of the bizarre premise it had me hooked every step of the way. In actual fact, the politics of "The Hunger Games" was rather more interesting than the battle scenes. Making it an interesting contrast with "Battle Royale" where the politics was barely developed at all, the characters all felt like cartoon characters and the main thing going for it was the bloodthirsty action. With "The Hunger Games" the weak point really seemed to be the action in the games themselves, but the characters and the scenario was set up so well that it didn't matter very much.
I've been a little confused by all the hate against Gary Ross as a director. People claimed that there was too much shaky-cam in the first film, but the most obvious examples of that which come to mind are all shot from the main character's perspective and there's an important sequence where our protagonist has been drugged. I think perhaps one of the most successful aspects of the first movie was the way it helped us to share the perspective of the protagonist, Katniss. I'm not sure that I ever really understood Katniss terribly deeply. She's an emotionally closed-off character for the most part. But I had a good sense of her struggle and her determination in the face of adversity.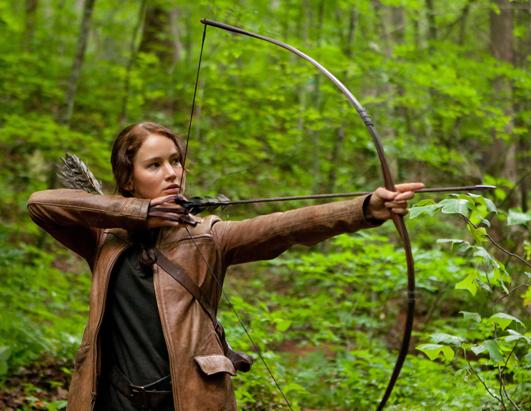 So now Gary Ross is replaced by Francis Lawrence, a director I mainly know for the movie "Constantine": A bit of a jumbled film that failed to make up for its miscast lead actor (Keanu Reeves is completely out-acted by Rachel Weisz in it), but had a splattering of interesting visuals.
I will admit straight off the bat that "Catching Fire" has a greater sense of scale than the first movie. The dystopian capital now looks like a combination of Nazi and Roman design (since the Nazi aesthetic was based somewhat on that of the Roman Empire). Also during the actual "Hunger Games" we have a much better idea of how the arena is laid out. This isn't necessarily a criticism of the first movie, since we often had the impression in the first movie of Katniss hiding in the thick trees and basically being lost in the woods. But in this film, the layout of the arena is much more important and the design is rather more intricate. Still, there were some very interesting shots in the original movie and I rarely found anything was quite as moving this time around. The scene in the original movie where Katniss has a memory of an explosion in the mines, for example, where we see her home exploding from the inside, really stood out for me.
(
Click here for the rest of the review...
Collapse
)
at the end of my review of "The Omen"
and there are two more reviewed below that I watched for the first time this year.
Who Can Kill A Child? (aka "Death is Child's Play") (1976)
The original audience must not have known what was about to hit them with this movie. We start off with an accounts of several different wars and atrocities across the 20th century. The holocaust being just one amongst them. And in each case we are told about how awful the situation was for children in particular. These accounts are accompanied with black and white footage and an official-sounding voice behind them. At the end of each one we hear children singing a short but annoying tune. This gets REALLY repetitive. But the message is clear. Children have had a tough time through history.
The opening bit looks like this. It's a Spanish movie (even if the leads are English actors speaking English) so we keep seeing Spanish writing in this red handwritten style on screen, with the black and white footage and photographs from real life wars and atrocities in the background and that official-sounding documentary-style voice over (also in English) explaining how bad children have had it. At the repeated singing bit we see children's hand prints on the screen.
So with the audience nicely softened to the plight of children, now to begin a story where children are actually going to be quickly revealed as the bad guys. But first we are introduced to a couple of English tourists who decide to get away from the crowds and spend some time on a quiet local island. On the island however, it becomes clear that things are actually a lot quieter than they ought to be.
The visuals of crowds of children are extremely eerie. The movie takes its time, but I don't think the pacing ever feels unneccessarily slow. And when we come towards the end there's a pretty shocking revelation which I did not see coming. (If you reach a point where you think the movie has wrapped up too easily then don't worry, it's not over yet.)
(
Click here to read the rest of my review of "Who Can Kill A Child?"...
Collapse
)
Mama (2013)
Yet another Guillermo Del Toro produced horror movie. Have had a pretty mixed response to these.
I hated "Julia's Eyes"
, finding it to be a complete misfire with some intriguing ideas at the beginning leading to what I viewed as a pretty cheesy finale. Meanwhile I found some plot details revealed about "Splice" completely put me off ever seeing that. (The creature design might be great, but I do NOT want to see that film.)
But strangely, contrary to most other people's opinions,
I LOVED "Don't Be Afraid Of The Dark
". I felt that it was well-made and while many had criticised the film for revealing the monsters so quickly, I found their Gremlins-esque behaviour really spoke to me.
I was a little unsure about the trailer for "Mama" but I was seriously intrigued by the premise. Children lost in the woods are recovered, but they've become somewhat wild after their experience. But when they come to live with a foster parents back in a civilised environment, it turns out that some kind of spirit from the woods was keeping them safe and it isn't prepared to give up its hold over them just yet.
I'll come right out and say it, I was disappointed by this one. Which is a real pity because in the first half there are some moments which I thought worked very well. Sure in the first half there are also some of the those now-cliched jump-scare "booms" to emphasise important moments, which are intended to make things creepier. But these were moments where I felt that more natural sounds would have been far more effective. A child scampering away timidly on all fours like a woodland creature is surely much more disturbing if you hear the actual scampering than if you hear a horror-movie "boom" noise?
(
Click here to read the rest of my review of "Mama"...
Collapse
)
It's a rather cool theme in horror movies to play on a fear of children. I considered a selection of 'child phobia' movies
Carrie (2013)
Whenever there's a new remake there's a word that gets used a lot which I find rather inappropriate. Time and time again I keep hearing that a remake is "unnecessary". Look, NO movie is "necessary". Naturally any remake is "unnecessary" right up to the point where it turns out to be awesome. Was David Cronenberg's "The Fly" necessary? Was John Carpenter's "The Thing" necessary? And if we look at more recent remakes. Was the Coen Brothers' version of "True Grit" a necessary remake?
Some people swear by the American remake of "The Ring" or by the 70s remake of "Invasion of the Body Snatchers". They would see those remakes as necessary. I see them as unnecessary for the simple reason that I think they are inferior to the original. If I thought they were better than the original, I wouldn't see them as unnecessary. Obviously.
I suppose the issue here is that the original movie and this remake are very similar. Naturally both are based on a book, but let's not ever-egg that excuse. I remember that excuse being used for "Let Me In" where the movie had far less in common with the book than the original Swedish movie "Let The Right One In". The fact is that Carrie in the original story was overweight and that is just one example of how this remake is sticking closer to the original movie than the book for its source material.
(
Click here for the rest of the review...
Collapse
)
can be found here
. This is the same again, but with clips from the latest Amazing Spider-Man 2 trailer included too.
(
video link
)
If anyone is unfamiliar with the 90s cartoon intro that this is based on, you can see it here.
(
video link
)
The previous trailer made by this guy
(
video link
)
Finally it looks like we're going to get villains that are actually villains rather than ones that are Peter Parker's best friend, best friend's father, teacher, work rival or the random thief who killed his father. He's going to discover all these villains when they are committing crimes for a change. Reminds me of how when Raimi's first Spider-Man movie came out, the videogame was actually more entertaining. It shoved in a load of Spider-Man villains straight away: Shocker, Vulture, Scorpion. Spider-Man is rather more suited to having a ton of baddies thrown at him than other superheroes.
Hey perhaps we can finally have a villain that doesn't have multiple personality disorder? (Unlike Green Goblin and Doctor Octopus, The Lizard actually has multiple personality disorder in the comics, so that kind of made sense. But we need to finally have a Spider-Man villain who is actually responsible for his own crimes.)
Okay so, this is the sort of crazy stuff we'd expect to see in the dark 90s comics. And I feel like the new trailer released for "The Amazing Spider-Man 2" looks closer to that than ever before.