Django Unchained (2012)
My
recent post on Tarantino
highlighted a rather dodgy interview where he refused to talk about violence. It's an odd point for Tarantino to get squeamish about since he's been talking about violence for years and he's never really surpassed the level of violence in his debut movie "Reservoir Dogs". After the opening credits "Reservoir Dogs" gets straight into the violence with a hysterical man panicking in the back seat of the car and bleeding profusely over his white shirt and the carseat leather from his recent bullet wound to the gut.
There's no such lingering on violence and its effects in "Django Unchained". Certainly there are violent scenes, but the camera generally either cuts away from violence or uses quick cuts to avoid us seeing the violent acts too clearly. That's not to say that the movie contains no violence, but that it's certainly not as intense and visceral as that found in his debut film.
My theory is that Tarantino has realised that he has a shot at the Oscars and that talking about violence might adversely affect his chances. With "Zero Dark Thirty" already suffering from bad publicity in relation to torture, the last thing Tarantino wants is for his past reputation to allow similar dents to be made in his chances for Oscar recognition.
What Tarantino REALLY wanted to talk about in that interview was how important his film was for talking about slavery in America. I was kind of rolling my eyes when he said that (and not without good reason), since the idea that a pulpy comic genre piece would allow for deeper conversations about the history of slavery in America seemed particularly hard to accept.
Still, as a person with very little knowledge on slavery in America I will admit that I left the cinema more informed on the subject than when I arrived. Hopefully I've successfully discerned which parts of the movie to take at face value and which to recognise as playing pulpy fiction. The last thing I want is to hold on to a misconception akin to "Jewish resistance fighters using guerilla warfare tactics infiltrated a special movie screening and killed Hitler". That would be very embarrassing.
Christoph Waltz returns, only this time he plays a bounty hunter. While in "Inglourious Basterds" he played a seemingly mild-mannered German scumbag with violent intentions towards Jews, in "Django Unchained" he plays a genuinely mild-mannered German with violent intentions towards scumbags. Meanwhile Jamie Foxx plays a slave who Christoph Waltz' needs to help him identify a particular set of fugitives. With bitter memories, a hunger for revenge, but more than anything, a fear for the wellbeing of his wife from whom he was separated by a previous master.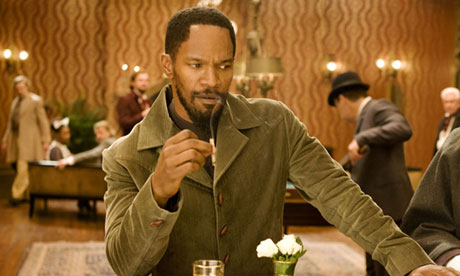 Both of these two characters are newcomers in their own way. Christoph Waltz's character is highly educated figure who can introduce Jamie Foxx to the business of bounty hunting as well as providing some perspective on topics in general. However, Christoph Waltz, finding the whole idea of slave ownership to be, at best, an unnerving foreign custom, is somewhat alienated by the issues surrounding the slave trade. He knows of them, but Jamie Foxx's character of Django has insider information and an emotional connection which Waltz's character lacks.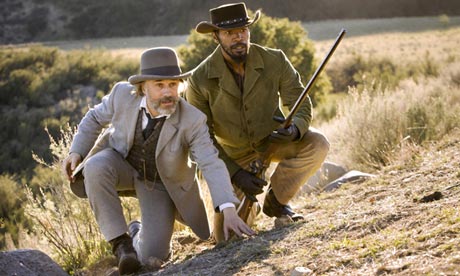 Marina's recent review
(and her reviews are always highly interesting and thought-provoking regardless of whether I agree with them) questions why Django is even viewed as the hero when Christoph Waltz's character often seems to take the lead. My own view is that these two characters are a proper mutually-complimentary duo. They begin as an unlikely pairing, but their connection only becomes stronger as the film progresses. They are much better developed characters than we have seen in a long time in a Tarantino movie, with their interactions with one another making a genuine impact on the progress of the film.
Another element that must not be ignored is the amount of talking in this film. Now certainly Tarantino films often involve a great deal of talking, but this time it didn't (to me at least) feel like an opportunity for Tarantino to make a load of pop culture references. This was closer to the format in "Jackie Brown" where the vast majority of the dialogue was important to build up the storyline and the characters.
To return to
another point from Marina's review
, the actress Kerry Washington is not someone I'm really familiar with. I'm afraid I simply cannot remember her roles in "Fantastic Four" or "Mr and Mrs Smith". I do remember her role in "The Last King of Scotland", but unfortunately that has a similar problem to the issue Marina had with "Django Unchained" in that Kerry Washington is mostly there to suffer horribly. Kerry Washington plays her part fantastically in "Django Unchained", but she is not really given the chance to develop as a character and I can absolutely see why Marina is annoyed by this. But I don't find it as troubling because, as I see it, that is her role in the film. The same goes for the suffering of black people within the film. Ignoring that suffering would seem to be over-glamourising the era. Then again slaves would have had more involved lives than simply being punished by their masters and Tarantino's exploration of that side of things is fairly limited.
There ARE female characters, both black and white, to be found across the film (though I don't think they talk to one another, so this doesn't pass the Bechdel test admittedly). That a major black female character in a movie about slavery will suffer should not be entirely surprising, but then again this does feel very much like a damsel in distress situation and Marina understandably feels that an actress of Kerry Washington's calibre deserves more than this script provides her with.
Leonardo DiCaprio is awesome as ever. I don't know that this was better than his performance in "The Aviator" (which was the point when I realised just how amazing an actor he really was), but he's certainly giving a very cool performance all the same.
Samuel L. Jackson's performance as his main house slave, on the other hand, concerned me a little. There's no doubting the skill involved when DiCaprio and L. Jackson play off one another and Jackson's performance is smoother than ever. However, I could not help but notice that his character is played very much for laughs and this actually made me feel very uncomfortable. Was this perhaps because slaves like this would genuinely act in this comical way? Is Jackson's character somewhat playing the fool (as well as playing the 'yes man') in order to appease his master? Or am I genuinely being expected to laugh at the foolishness of the head slave?
Before anyone gets too worried about an inappropriate portrayal of slaves in "Django Unchained" it should be noted that most slaves are portrayed in a much more human and empathetic way. What's more, Jackson's character develops in a particular direction which means that may well give credence to the "playing the fool" idea.
Another important element I haven't mentioned yet is the music. I have trouble accepting the use of rap music in some sections, I must admit. When I cannot understand the lyrics (sometimes even when repeated over and over again), I have trouble deciding whether they are appropriate. However, one particular piece of music surprised me.
In a key moment in the film the word "Freedom" is sung over and over again with a cool acoustic guitar tune playing in the background. This was a song played at Woodstock by folk singer Richie Havens and I was rather unimpressed when I first heard it. The context of the hippy movement seemed to suggest that it was raging against the evils of the Vietnam war which would seem to be quite distant from the experiences of the singer. Seeing as I myself was listening to this song during the nineties, it felt particularly hard to engage with the passion of the song (or to give the song a pass for repeating the same word so many times). Yet in "Django Unchained" not only is the song cut down to much less tiresome length, but the cry of "freedom" feels much more appropriate in the context of the film. This song that previously bored me, now seemed to produce one of the most badass moments in "Django Unchained" and that really impressed me.
Since I got so spectacularly upset with Mike Myers' voice in "Inglourious Basterds", I should probably address Quentin Tarantino's Australian accent during his brief cameo. His accent takes a world tour including both South African and cockney. Still, I don't think it is so awful as Mike Myers' performance because it is somewhat briefer and because Tarantino doesn't have a ridiculous constipated look on his face during the performance. Plus something happens to Tarantino's character that, had this happened to Mike Myers' character in "Inglourious Basterds", I'd probably have found it some consolation.
Django Unchained is much more emotionally engaging than Tarantino's films have been in a long time. The long running time flies by due to good pacing and a great sense of comedy (the slightly worrying bits with Sam L. Jackson excepted). The performances are all fantastic and the central duo of Waltz and Foxx give a strong grounding to the story. This may not be the best film Tarantino has ever made, but it's a great time at the cinema. As someone who wasn't really so impressed by Tarantino's previous film "Inglourious Basterds" (nor "Death Proof" which preceded it), I see "Django Unchained" as a real return to form. I must say though, I'm really hoping that the next film from Tarantino is COMPLETELY DIFFERENT, as Tarantino's films have all looked a little overly similar from "Kill Bill" onwards.
If you've been following Tarantino's career as I have, I think you're going to be pleased with this one.
A+
Best to worst Tarantino movies
...
1. Pulp Fiction (1994)
Initially I would have put Reservoir Dogs before Pulp Fiction, but as the years went on and I re-watched Pulp Fiction a number of times I came to realise that Pulp Fiction changes almost every time you watch it. It's a film that allows you to take what you want from it, allowing it to have a different character depending on what state you are in at the time.
Pulp Fiction is essentially a set of inter-linking stories. With that in mind it's clearly one of the best films to adopt this format, easily inter-linking the storylines without feeling forced or desperately trying to overlay an all-important linking theme. Pulp Fiction also happens to be pretty hilarious in places and every scene is driven by its characters. This film has a unique way of capturing the audiences imagination.
A+
2. Reservoir Dogs (1992)
Tarantino's debut feature is simple yet effective with a well written screenplay that feels like it could work just as well if the whole story were told in a single room.
The way the seemingly villainous characters talked at length about popular culture became an inspiration to future filmmakers while the violence in the movie pushed the boundaries leading to a much more limited release in the States.
The opening scene involves the lead character (played awesomely by Tim Roth) bleeding like crazy from a bullet wound to the gut, while a later scene depicts torture inflicted by Mr. Blonde to the tune of "Stuck In The Middle With You". As such "Reseroir Dogs" is not only a highly violent movie but shows more explicitly, intensely and disturbingly the genuine effects of violence on its victims. This is not only never found to the same extent in any of Tarantino's later movies, but is rarely found in films anywhere.
A+
3. Jackie Brown (1997)
The highly involved plot of Elmore Leonard's novel "Rum Punch" leads to quite a complicated film. Still, Tarantino gives a great deal of depth to his characters and his decision to switch the central role to "Jackie Brown" (known as Jackie Burke in the novel) was inspired.
The depth of the characters is a major plus for this film. In fact, I personally found (even having greatly enjoyed "Jackie Brown" in the cinema) that the film was even better upon a second watch. Surprisingly enough, Tarantino himself seems to anticipate this reaction in the DVD extras, noting that on a second watch the audience is better able to "hang out" with the characters, having already understood the route that the story will take.
After the strong positive reaction to Samuel L. Jackson in "Pulp Fiction", the movie "Jackie Brown" is perhaps mainly an opportunity to show off Jackson's acting talent. Sam L. Jackson makes full use of this opportunity, providing what is possibly the best performance of his career as Ordell. Apparently when writing the screenplay Tarantino was so pleased with the role of Ordell that he very nearly decided to play the part himself.
Incredibly, in spite of a runtime of over two and a half hours, the film never drags. There is always plenty happening and Elmore Leonard's plot needs this time to unfold clearly and carefully. Also there are plenty of laughs too. "Jackie Brown" is definitely Tarantino's cleverest film.
A+
4. Django Unchained (2012)
Combining the wackiness Tarantino has been indulging in throughout his movies after Jackie Brown with the strong characters and humour of Pulp Fiction, "Django Unchained" is a great story. It's not clear that Tarantino needed the self-referential side to be quite so heavy, but the strong characters played by Jamie Foxx and Christoph Waltz ensure that the film holds together. The style also stays consistent.
A+
5. Kill Bill: Vol. 1 (2003)
Criticising Kill Bill for inconsistent themes would be completely unfair. The whole experiment of Kill Bill was a combination of stylistic themes mashed together. Tarantino promoted the film as being the sort of film that characters within his other films would go and see. So if "Pulp Fiction" feels two steps removed from real life, "Kill Bill" takes another ten steps into complete wackiness. Even so, Uma Thurman's nameless protagonist and ruthless killer ensures that we feel fully invested in everything that comes, no matter how ridiculous. Where the problem comes is that "Kill Bill" volume one is only half a film and while the second half is pretty good, it doesn't quite seem badass enough as a conclusion for volume one.
A+
6. Kill Bill: Vol. 2 (2004)
A lot less actually happens in "Kill Bill" volume two, though it definitely benefits from having set up the central character as a legend in the previous film. There are some great moments and some other rather less substantial moments and some revelations about Bill towards the end make him seem rather more like a mouthpiece for Quentin Tarantino than a real badass in his own right.
And how old is Pai Mei supposed to be exactly? Coz he sure as hell doesn't LOOK over 1000 years old!
B+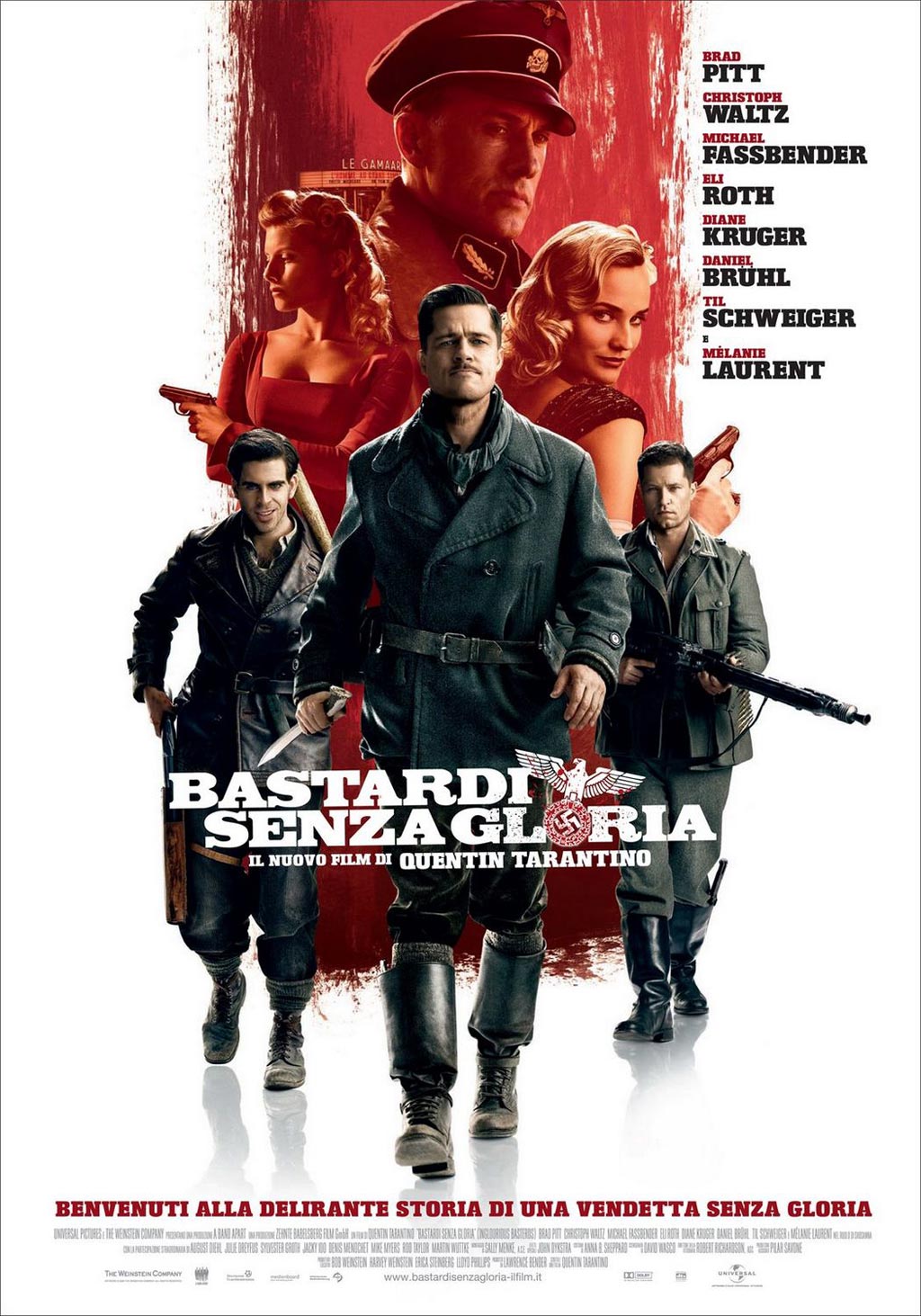 7. Inglourious Basterds (2009)
While "Inglourious Basterds" received a lot of praise, it seemed to suffer from a kind of dual personality, with the struggle of Jewish survivor Shoshanna on the one hand, and the troop of Basterds led by Lieutenant Aldo Raine on the other. The former's story was quite serious, while the latter's story was farscical and as the film comes towards its final act the two stories do not match up terribly well at all. In spite of this, there is one scene where comedy and seriousness match up quite perfectly when the Basterds arouse the suspicions of an SS officer.
Oh and Mike Myers' English accent was atrocious!
Click here for my original review.
B-
8. Four Rooms (1995)
This is an anthology film with Tim Roth playing the central character, a bell-hop in a hotel catering to the different needs of the people in the various rooms. Each of the four directors has a quarter of the film to tell a story related to a particular room.
The worst section by far is the very first, directed by Allison Anders (who went on to do various tv episodes), about a coven of witches (including Madonna). It's all very trite and not very entertaining. The second section isn't all that much better.
Alexandre Rockwell, who did a film called "Pete Smalls Is Dead" the other year with Steve Buscemi and Lena Heady amongst the cast (yeah, I hadn't heard of it either), does a little story in relation to mistaken identity where a man accuses the bell-hop of being his wife's lover. Jennifer Beals ("Roger Dodger", "The Grudge 2") and David Proval ("UHF", "The Sopranos", "The Shawshank Redemption") both do their best with the material, but the ending of the scene leaves the whole thing feeling a bit redundant.
Finally the third scene is directed by Robert Rodriguez ("Desperado", "Planet Terror", "Sin City", etc. etc. this guy is awesome). He has Antonio Banderas playing the father, but the main stars here are the two children the bell-hop is expected to keep an eye on while the parents are away. Rodriguez' story in "Four Rooms" is clear evidence that, while Rodriguez' movies for children might not be up to much, he is absolutely brilliant at directing child performances.
The very last scene is to finish the film is directed by Tarantino. It's quite a long meandering scene with Tarantino delivering most of the meandering dialogue (more like monologue) himself. He's playing a pretentious Hollywood guy who is clearly a bit drugged up and takes a long time to get to the point, supposedly indicating that Tarantino is not adverse to a joke at his own expense. The scene ends very well and gives the film a much more satisfying feel than the dire first half could possibly warrant.
Even if I were to judge Tarantino's segment on its own, it's not perfect. (I actually prefer Rodriguez' section of the film.) So the scores are:
Tarantino's scene = B-
The film as a whole = C-
9. Death Proof (2007)
I have no idea what Tarantino thought he was playing at here, though I'd really like to see the shorter version of the film in the original Grindhouse double-feature. The film begins with the most self-indulgent and pointless dialogue that just goes on and on and on with absolutely nobody seeming like a real human being and EVERYBODY seeming like a mouthpiece for Tarantino. I also cannot understand the decision to switch which characters we follow half way through, since it means that all the time spent listening to them rabbit on inanely at the beginning leads to absolutely no character development whatsoever.
The dramatic car chase isn't really all that impressive and is certainly massively overshadowed by the fist fights, gunfire and explosions of Rodriguez' "Planet Terror" (the other main feature of "Grindhouse" which did not suffer from being released separately).
Tarantino himself has admitted that this was his worst film. He's not kidding. It's possibly not such a bad film for "the worst film of your career", but it really isn't any GOOD either.
D+
5 A+ scores out of 9 movies? Not bad Tarantino. Not bad at all! :D