Zero Dark Thirty (2012)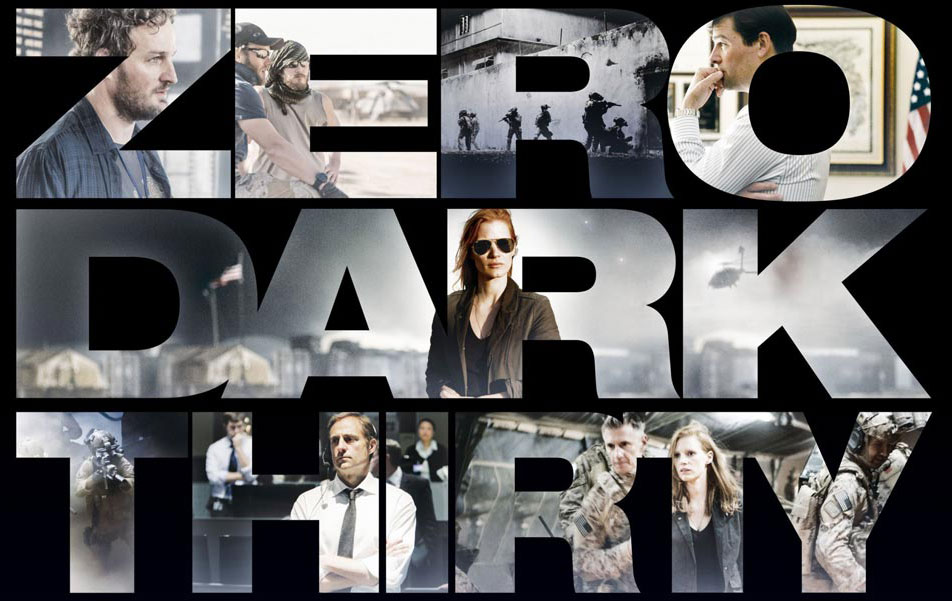 What happened to Kathryn Bigelow? How exactly did she go from being this fairly mediocre genre-movie director to a highly talented director of beautiful moving films?
It wasn't so long ago that I checked out "Near Dark" (
review here
). It had a few fun moments, but the central romance was laughably thin and the film as a whole was a bit shoddy to be quite frank. While it was a long time ago now, I can't imagine that my low opinion of "Point Break" will have changed much either. I cannot even begin to understand how "The Hurt Locker" and "Zero Dark Thirty" are even from the same director. There's just no comparison. These are much better crafted films.
"Zero Dark Thirty" and "The Hurt Locker" are inevitably going to have to be compared. They are both connected with the US 'war on terror' and both make use of a similar somewhat macho style. What limits "Zero Dark Thirty" somewhat is its connection with real events.
Don't get me wrong, I'm not suggesting that either of these films is giving a reliable account of real events. "The Hurt Locker" came under a lot of criticism for its depiction of a soldier. (I like to think it's as faithful in its depiction of the military as "Die Hard" is in its depiction of the police force i.e. not at all faithful.
My very short review here
.) Even ignoring the torture stuff (more on that in a moment) "Zero Dark Thirty" inevitably isn't depicting the workings of military intelligence terribly faithfully either.
What "Zero Dark Thirty" does at least stick to, however, is that intelligence operatives do not foray into the field too much. At no point does Jessica Chastain's protagonist, Maya, load up a machine gun and decide to rampage through the streets of Pakistan in search of her mark. She's still a bit of a loose cannon figure, just like Jeremy Renner's protagonist in "The Hurt Locker" was, but she's a different kind of rebel.
So how is "Zero Dark Thirty" limited by its approach to true events? Well perhaps the first thing to note is that originally it wasn't going to even end with the killing of Bin Laden. That took the filmmakers entirely by surprise and so it is to their credit that the narrative structure seems so sensible. I cannot really point to any moment in the film and say "that's where they changed direction due to Bin Laden's death".
However, the connection of the film narrative with real events means that it takes place over a much longer period of time. "The Hurt Locker" was simply about a small group of characters around which the action could revolve. "Zero Dark Thirty" is about a whole series of events often quite long periods of time apart from one another. Also the narrative often requires the characters to be long distances apart, working on completely different projects. This means that characters do not always get to be built up so much. Even Maya herself is of limited depth, seemingly being a determined and unchanging rock, as the events flow past her; her struggles only making her more determined and more stubborn.
In case anyone is as yet unaware, "Zero Dark Thirty" tracks the search for Bin Laden which as military intelligence comes to realise that Bin Laden is not actually hiding in the mountains of Afghanistan, but has actually found a hideout closer to civilisation. As the leads dry up, Maya has one particular line of inquiry which she refuses to drop even as her department becomes more and more sceptical of its worth. Essentially she has a single name and nothing else, asides from her own relentless uncompromising determination. In real life, the results of this lead were undoubtedly the product of more than one person's determination and hard work, but it makes for a pretty neat story to see Maya pursue her line of inquiry even when it feels an utterly fruitless search for a figure who, as we well know, was eventually regarded as most likely dead already.
On the torture "controversy", it's an utter joke. The other year I saw a documentary called "Taxi To The Dark Side" all about the torture in Iraq. Senator McCain, who has accused the filmmakers of getting it wrong, was actually one of main figures leading the tribunals AGAINST torture in Iraq, so he of all people knows for certain that it WAS happening. I thought perhaps the problem was that the movie depicted torture after it had been uncovered and stopped, but that's not the case at all. "Zero Dark Thirty" depicts torture most of all in the period straight after 9/11 when we know for certain that it took place. What's more, any claims that the torture produces any information within the film are dubious at best.
Soderbergh's movie "Traffic" shows a much more straightforward retrieval of information through torture. "Zero Dark Thirty" makes torture seem a great deal less reliable and a great deal more time-consuming and frustrating for the torturers. (If you want to see a film handle torture really badly, then you could always check out "Unthinkable".
My overly forgiving review is here
.)
Of all the parts of the film which take liberties with the truth, the depiction of torture didn't really feel like one of them. Perhaps McCain was annoyed because there were so many scenes of torture victims being hit or put in boxes and not enough of them being
bombarded with footage of Barney the purple dinosaur
, but the principle is the same.
Props to Jason Clarke as Dan, Maya's close colleague, most often given the job of torturing suspects. I thought he was great. I was also very pleased to see Harold Perrineau, who I last saw stealing the show in "30 Days Of Night: Dark Days" (which I still assert was better than the first "30 Days..." movie -
my review here
).
Another actor who stood out was Jennifer Ehle, who I would have said was most well known for her role as the protagonist Elizabeth Bennett in the massively popular BBC adaptation of "Pride And Prejudice" back in the 90s. I was surprised to see her appear in a small role in "The King's Speech", but she has since given a fantastic performance as Dr. Ally Hextall in "Contagion" (
my review here
). She clearly plays one of the more interesting characters here too as another of Maya's colleagues.
One more star of the show as yet unsung is the explosion effects. The major strike against Bin Laden which we were all expecting has plenty of occasions when doors need to be knocked down with explosives and Bigelow makes sure you feel every single one. These explosions stand out and do not feel like typical action movie explosion effects. Those aren't the only explosions in the film and Bigelow knows how to ensure every instance makes its full impact.
Of the two films I was
looking out for this January
, it's difficult to say which I preferred. I think if forced to choose I'd probably say I preferred "Django Unchained". I think I'm more of a fan of limited scale character pieces rather than epic narratives, so
Tarantino's latest film
(which I considered to be a bit of a return to form for him) was the more appealing of the two for me. That said both films were fantastic.
One last thing before I state the inevitable grade for this incredible war-on-terror blockbuster. The Bin Laden strike ends with a piece of music known on the soundtrack as "Back To Base". It sounds extremely familiar. Anyone know what film score this is reminding me of? I cannot work it out for the life of me...
(
video link
)
A+