Beasts Of The Southern Wild (2012)
I'd been looking forward to this for quite a while. I didn't get a chance to see it at the cinema when it was being compared favourably with "Pan's Labyrinth" (a personal favourite). Then later when it gained its Oscar nominations it seemed like this year's underdog. The movie which plenty of people hoped would win, but no one expected to do so. Also there's been widespread praise for Quvenzhané Wallis, who is now the youngest actress ever to be nominated for an Oscar. And now I've finally had a chance to watch this beautiful magical realism film for myself.
The visuals are certainly great in this film. The characters live in a slum which they know as "the bathtub", which is lovingly depicted. Early on we see them fishing in what looks like an old car converted into a raft. Also, early on we see the young protagonist running around with fireworks in her hands (which is an image shown on most posters).
There's also a "Where The Wild Things Are" style depiction of the young protagonist's imagination becoming real. She is informed that the ice caps are going to melt and that all the children in the bathtub are going to need to learn how to survive. A kind of 'wise woman' figure shows the children her tatoo of cave paintings of aurochs, an extinct wild animal, and claims that those creatures used to kill children.
So when a storm and floods come (a blatant reference to hurricane Katrina), we are also shown a kind of avalanche. The young protagonist is imagining that the floods are due to ice caps melting. We also see some chunks of ice contain aurochs, but instead of the cattle-like animals, we see a multi-tusked colossal giant boar that our protagonist has interpreted from the cave painting images instead.
Sadly the depictions of her fantasies don't really get much more interesting than that. We don't have an array of imagery like we had in Pan's Labyrinth. Also, while the imagery seems intended to compliment the real life situation, it never quite ties in properly. The real life situation is, and I don't feel this has been stated elsewhere nearly clearly enough, a young girl with an abusive father.
Early on, the young protagonist is left on her own and is clearly starving hungry. She decides to cook something that looks like dog food. It's confirmed later that she has genuinely been neglected by her father when he returns home in a hospital gown, having fled the hospital for as yet undisclosed reasons. At this point the young protagonist asks whether she can live with her father rather than in the separate trailer where she is currently based. The father simply tells her to go away.
She returns to her trailer where the dog food is burning. In a clear plea for attention, she decides to turn up the heat and let the whole place burn down. The father comes looking for her, chases her, and when he finds her he hits her. This is quite early in the film and yet we seem to be expected to quickly forgive the father for hitting his 5 year old child. (And, later on, forgive him for encouraging his very young child to consume a pretty large alcoholic drink.)
Another worrying aspect of his parenting of her is that he clearly wishes she was a boy. He keeps asking her to be manly and tells her that she's going to be the man of the family when he's gone. He shouts "who's the man?" at her, encouraging her to reply "I'm the man!" and while that in itself might not be taken as sexism, the theme is so consistent that it's just one more worrying thing. Though his general failures in being a responsible father and his resorting to violence against his young daughter kind of overshadow this issue really.
Outside of the relationship between father and daughter, there really is very little happening here. I kept wishing the aurochs would turn up and do something, but when they finally appear it's a bit of an anti-climax really. What's more when the father is such a horrible person, the news that he's dying of cancer isn't really the big tearjerker it's intended to be. It's quite clear that the protagonist would be much better off being raised by nearly anyone else in the cast, even one old drunk since at least he'd only ignore her rather than hitting her.
I've been avoiding using the young protagonist's name. She's called 'Hushpuppy'. Clearly yet another bizarre bit of cruelty. The bizarre names seem to be less to do with an understanding of a particular piece of black culture and more because the white writers and director have an unhealthy fetishisation of poverty. This is less of a "whites save black people" movie and more of a "black people love being poor" movie.
Quvenzhané Wallis with one writer and the writer/director.
There's a kind of twisted libertarian sensibility to "Beasts Of The Southern Wild" whereby a white doctor is a bad guy for even wanting to treat the father's cancer. 'Don't let them plug me into the wall', the father has apparently said to his daughter. - Now don't get me wrong. I can believe that there are people who've been so mistreated by the medical care system that they will not trust doctors anymore. However, with the (admittedly wonderful) symphonic music of the soundtrack blaring out triumphantly and seemingly encouraging us to see this horrific poverty as somehow uplifting I couldn't help but feel a little bit revolted.
Dwight Henry, who plays the father, deserves some credit for portraying the abusive father very well. He plays the part very believeably and honestly and it's not the actor's fault that the movie is directed in order to try and persuade us that his character is somehow endearing.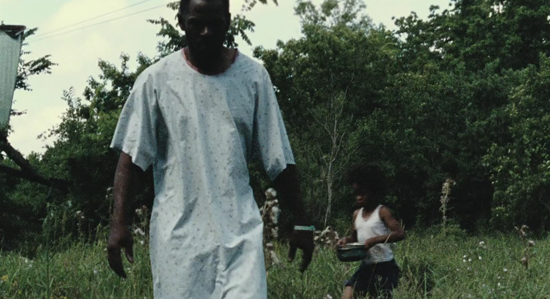 I can't really say that Quvenzhané Wallis deserves her Oscar nomination though. Not that I mind much who the Oscars are awarded to, but I'm not really convinced that you ought to give major awards to someone for being remarkably good "for a five year old". In the end, her role mainly involves looking cute on screen and if she's really talented, she'll give even better performances when she gets older and more experienced as an actress.
"Beasts Of The Southern Wild" is an utterly miserable story about a young girl with an abusive father who lives in shocking poverty. It is then portrayed as some kind of Disney fairytale set to uplifting trumpet music. The story is threadbare and inconsistent and the themes are incoherent. On top of that, this miserable story with its inappropriate soundtrack, unlikeable father character and fetishisation of poverty, also has ridiculously slow and plodding pacing that makes it a real slog to watch.
D-