Argo (2012)

Okay, so this was the big 'Best Picture' Oscar winner then? Oddly this was apparently pretty popular in Iran with sales of the bootleg DVD going through the roof. Some interpret this as a need to see the other side of a story that is well known within the country in the form reported by the government and other citizens of Iran with a vested interest. Others see it as mainly a means to show disdain for the current government leaders in Iran, entirely ignoring their demand for a ban on the film.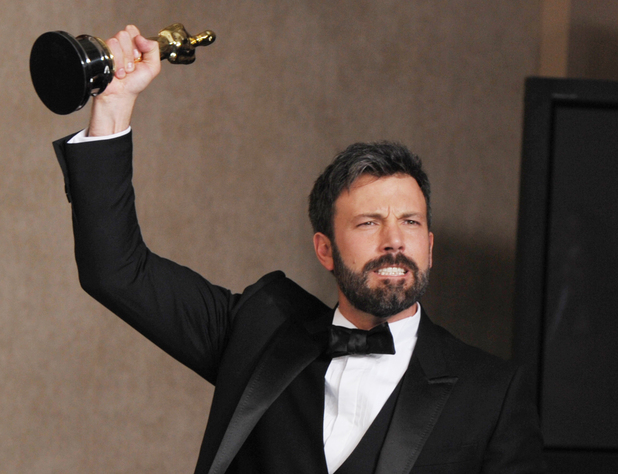 The story is about a raid on the American embassy in Iran in response to the US harboring the Shar, a dictator and tyrant who was overthrown by Iran's revolution. The embassy is raided and captured by rioters and, while trying to burn as many documents as possible, survivors try to make an escape in the chaos. A small group are able to be kept safe by Canadian embassy workers.

The initial introductory part of the movie isn't great. I never knew about this embassy raid and yet it told me very little that I didn't already see in the excellent animated film adaptation of Marjane Satrapi's "Persepolis".




There was a little bit of controversy over Ben Affleck playing the part of the real life CIA agent Tony Mendez, but in actual fact it turns out that he does not think of himself as hispanic. On his mother's side he has Irish, Italian and French heritage. On his father's side there's presumably some hispanic in there, but while his father's family originated from Mexico he doesn't really think of him as hispanic. So that's that sorted out.




Ben Affleck's character is very self-contained. A confident but unemotional figure for the most part. The initial scenes are a pretty great introduction to his character and his situation, with him trying to find some alternative to the current doomed plans to send the survivors of the embassy raid into the mountains with bicycles in the hope that they can cross the border. Ben Affleck has always been a pretty bland actor, but he's a good actor nonetheless. He just needs the right role. This role doesn't seem to fit him as well as his role in "The Town" did, but he does a good enough job with it anyway.

The plan eventually formed to save the embassy workers is to smuggle them out as filmmakers planning to shoot a movie in Iran. A sci-fi movie no less. Probably the best part of the film involves the producers of the film, played by John Goodman and Alan Arkin, trying to gain funding and build up hype for a fake movie that they can use as a front when they try to leave with the embassy workers. The promotion of this fake movie goes to unexpected lengths and that's quite fun. And of course in the meanwhile there are all the attempts to persuade other staff at the CIA that the scheme will work, with the ever-excellent Bryan Cranston as Affleck's superior there.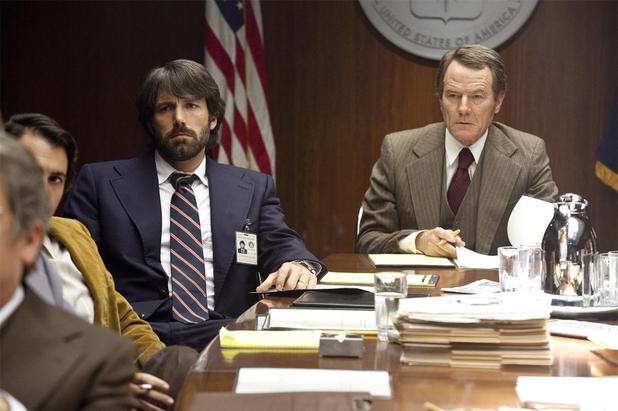 Where the film falls down for me is Iran itself. The embassy workers are not only given little character development, but very little in the way of identity. And these aren't poor actors. The execution of the other embassy workers who were captured naturally sets up the tension of their situation and they represent their paranoia and stress very well, but since we've had a rather silly section of the movie played for laughs since then about a fake sci-fi movie, it's hard to get that atmosphere back without some serious empathy for the characters. And there's just no characterisation to speak of here.




I would say that the most recognisable actress is Clea DuVall except I must admit, to my shame, that I had her mixed up with Ellen Paige. I've seen enough to know that she's a good actress ("The Faculty" and the first series of "Carnivale" are the main things I know her from but I feel that's plenty to make a judgement), but she's simply not given enough in the script to make an impact here. Similarly under-used is Christopher Denham, who was so fantastic in "Sound Of My Voice" which was finally released that same year.

The actor who gets the most chance to make an impact as an embassy survivor is Scoot McNairy, who many may remember as the lead actor from the movie "Monsters". He has to deliver a whole load of dialogue in Farsi. This is clearly supposed to be a very emotional moment in the film and admittedly McNairy does a fantastic job. However, I didn't real feel like the movie had the right level of tension during that scene to make it work, which is a real pity considering McNairy's wonderful performance.



Left: Scoot McNairy in "Argo". Right: Scott McNairy in "Monsters".

Now it might be argued that the real focus in the second half is on Ben Affleck and not on the embassy staff at all. But sadly I really don't feel like Affleck is a strong enough actor to take that kind of burden. He's fine when interacting with others and it must be noted that in "The Town" his interaction with Jeremy Renner was a major source of the movie's strength. Here in "Argo" it feels like in this second half we are expected to be invested in the movie solely on the basis of Ben Affleck's performance. Clearly for some people that was enough, but for me this was just not enough.




I hate to say it, but for much of this movie I was pretty... well... bored. When the movie came out some people noted that the ending of this story is common knowledge. As someone who was pretty unfamiliar with the story, I would have liked it if there was a greater attempt to set up some real dramatic tension. I know that Indiana Jones is going to survive too, but I normally still care whether he gets out of his scrapes all the same.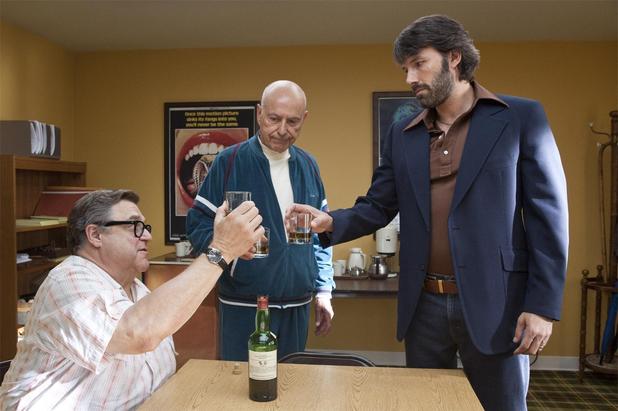 Argo is fairly workmanlike film with some promising elements in the first half which simply aren't handled in an interesting way. The film stumbles towards the inevitable ending without much of the cinematic quality you'd expect, particularly from an Oscar winner.

C-




Life Of Pi (2012)
I was fairly sceptical of this one. The early teaser trailers didn't make it look like the CG was going to be that great. I'd enjoyed the book, but didn't see much need for it to be adapted to the big screen. And I was kind of concerned by the comments I was hearing about the way the religious theme was tackled in the film.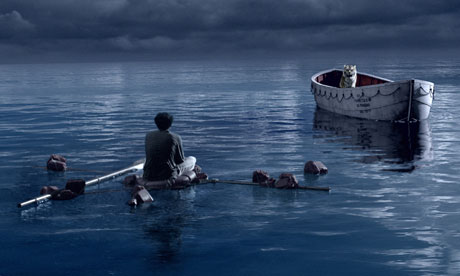 Naturally the main story is about an Indian boy who is stranded in a lifeboat with a tiger. However it takes over half and hour to get to the storm which causes him to end up in that situation. This is because the film initially needs to introduce us to the protagonist, why he is called Pi, his strange religious attitude whereby he wishes to believe all religions contrary to the advice of his highly rational father and his agnostically Hindu mother. (One element that has been cut out is an argument breaking out between a priest, imam and pandit, who were all convinced that Pi was a devoted follower solely to Christianity, Islam or Hinduism respectively.)




A love interest has been introduced into the story. Now while that may seem rather pointless, it's actually used as an opportunity to explore some themes of the story. Pi is interested in what she can tell him about the meaning of Hindi dance moves which is an interesting parallel with the problem of interpreting a tiger's gestures. As a child Pi's father, who owns a zoo, makes very clear to him how easy it is to anthropomophise Tigers (to treat them as if they thought and acted like humans). But interpreting the tiger's body language becomes vital when he is trapped with the tiger on the lifeboat later in the story.




Some of the visual imagery is very impressive and I don't just mean that the events in the story are shown in a pretty way and I'm not just talking about the fantastic work that has clearly been done on the tiger (which looks a hell of a lot better than the initial teaser trailer would suggest). The film makes use of abstract imagery at times and uses poetic license in its depictions at certain points. The film is visually stunning and the central performance is highly engaging, but there's also some very strong themes which are very well developed.




So here comes the point where I absolutely MUST tackle the religious side of the story. It had actually been a problem for me when reading the book. We are told that the story is supposed to make us believe in God at the beginning of the book and there's some flimsy call back to that at the end. Certainly the quirky way the character of Pi embraces all religions and is forced to balance his faith with reason when at the mercy of the elements is important, but the opening and epilogue of the book didn't really feel terribly relevant to any of that.




In the film this element is actually handled much better. I fully expected the final message to have me groaning, but I found it far more effective in the film than I ever did in the book. I suppose if I were to summarise what the message about religion meant to me, it would be that religious ideas are often less about understanding the mysteries of the universe and more about understanding ourselves. The story we are told in "Life of Pi" is an exploration of Pi as a character and what inspires him about religions is their relevance to his inner life. That ties very neatly with the message of the film and I found myself empathising strongly with the character from beginning to end.




The majority of the credit must go to Suraj Sharma, an actor with no previous acting credits to be found on IMDB, and yet he handles the role of Pi for the majority of the filming time. He's the one that really has to get us emotionally invested in the character and he does one hell of a job.

A+

(Life Of Pi deserved every award it got. And the one awarded to Argo? It deserved that too!)




Amour (2012)

Michael Haneke is not known for particularly upbeat movies and a movie from him about an elderly woman dying of a terminal disease struck me as an especially trying experience. His last movie "The White Ribbon" was admittedly very well made, but it was also pretty slow paced and highly miserable experience.




It's quite common for Haneke to make use of a fixed camera, going for interesting camera shots rather than interesting camera motions and then keeping the camera fixed in that spot for extended periods. That is still the case and yet oddly this film is nowhere near as miserable as expected.




In fact there are interesting characters who have engaging conversations together. The film doesn't suddenly go silent when the terminal illness kicks in either. Sure there are some parts which, by the nature of the topic are somewhat unsettling, but in the end this is the story of a loving relationship and that context makes the harsher elements worth the effort.




The director claims he didn't intend to use this movie to talk about Euthanasia, but he definitely handles the subject.

A very central theme seems to be human dignity. Particularly when one nurse treats the wife like a child, brushing her hair to make her look pretty in spite of clear signs that the wife is uncomfortable with this. This is contrasted by the husband's frustration and anger when his wife tries to prevent him from giving her water which causes him to lash out. In both cases the wife who is dying of a terminal disease is essentially assaulted, but the director clearly intends to suggest that one is mean, humiliating and possibly even dehumanising, while the other comes from a place of love and, in the words of Dylan Thomas, a struggle against "the dying of the light". The husband seems completely unwilling to give up on his wife even when she is happy to die of hunger and thirst. There are some successful attempts to keep dignity alive by singing together. Even though his wife can barely speak she clearly feels great joy attempting to sing old songs.




For the most part, while you might infer certain interpretations from what happens in the film, this is essentially a film without a message. It's about real people going through something which is very hard to handle in a film and very hard to watch, so it's quite remarkable that the narrative is as strong as it is. However, it is the characters rather than the story which do the most to make this work.




The final scenes do finally go a little abstract. Perhaps too abstract. There's some theme involving a pigeon flying inside by accident, which is supposedly supposed to become meaningful at the end. I think the main reason for making the ending so abstract may have been to avoid finishing on a completely dour note. So many films focus on the inevitability of death and that isn't what Haneke wants to say to us here. And to that extent he is successful. This is definitely more a film about life than a film about death. However, I would have really liked to know what the hell our male protagonist was writing in that letter towards the end. His will? Memoirs?




While I might be slightly annoyed by the way the film ends, I can see that it was a clever alternative to just ending with death or trying to end with some overly literal vision of the afterlife. There are parts where the film drags and I don't think the slow pacing is always necessary. But overall this is a very impressive achievement and well worth checking out.

B+

(I still feel that "A Royal Affair" should have received the "Best Foreign Language Film" Oscar.)