Damien: Omen II (1978)

I must congratulate the casting director for making such an awesome choice of actor for the role of the teenage Damien. When watching, I was convinced that it was actually same actor grown up. Not only does the actor catpure that distinctive look of the Anti-christ from the original movie, but he also has a real on-screen charisma to him which makes him easily relateable. Should the Anti-Christ be relateable though? This question is rather central to this first sequel to "The Omen".




This time around, the Anti-Christ is being sent to boarding school by his loving upper-class adopted parents and seems to be really good friends with his now-long-adopted brother. But within their father's company and even within their new boarding school, certain figures begin to guide Damien towards his destiny.





In the boarding school Lance Henriksen (Aliens, The Terminator) becomes the first person to reveal to Damien who he really is. This leads to a rather narm-y scene where he runs to abandoned dock to shout "WHY ME?" as loud as he can.

In "The Omen" it always seemed that Damien must already know his purpose. Since we were told that he's not really a human being, part of the appeal of the character was that he was this soulless child. A monster in the form of a human child with absolutely no remorse. Still, just as in Christian theology there are some who interpret Jesus as knowing his role from the moment he was born and others who, recognising Jesus' humanity, suggest that he may not have realised his full purpose on Earth until later (some suggest at his baptism by John the Baptist). What we have here in "Damien: Omen II" is more of a sort of 'adoptionist' theory of the Anti-Christ, whereby while he always has his powers (and even uses his powers) he has to learn his identity and destiny gradually. The point being that he's not just a semi-Satan hiding in a semi-human body in this movie, but actually truly experiences human emotions.




Portraying this more human Anti-Christ figure is Jonathan Scott-Taylor and since the film needs him to react emotionally as he realises his true identity, he cannot get by on blank inhuman expressions. I think he does a great job portraying the Anti-Christ as a conflicted adolescent. We get a few occasions where he consciously uses his powers on people he meets, but afterwards he needs to come to terms with what he has done and what it all means.

The random supernatural pre-destined deaths continue this time around, except this time they are often connected to a raven. While Damien appears to be unaware of these deaths, there's a suggestion that he might be subconsciously responsible. These killings are especially extravagant this time around and I must admit finding them a lot more satisfying as a result. These deaths are often a real spectacle. The raven appears to be taking the place of the black dog from the first movie and while you can't get a raven to growl at people, instead the director uses a close up of the raven's eye with the light glinting off it that makes for a very cool effect.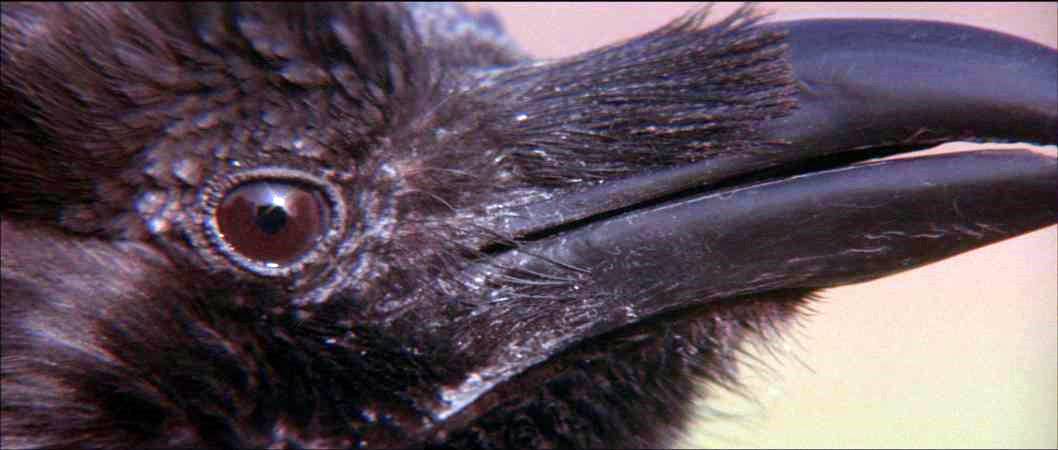 Even though "Damien: Omen 2" is quite cheesy in places, these cool payoffs do a lot to make up for it. I wonder whether the "Final Destination" movies aren't somewhat inspired by the "Omen" series. The idea that the world around us is actively trying to kill us. I'm always more impressed by the animal-related deaths though, since the idea that random coincidences are plotted by Satan is a little hard to take seriously. But if Satan has sent an animal after you as an omen of your imminent demise, then THAT is something I can get behind.

I think perhaps the most annoying thing about "Damien: Omen 2" for me was the 'famine' character. Famine is, of course, one of the four horsemen of the apocalypse. As you might expect, he doesn't appear as a cloaked figure on a horse but rather as a figure in Damien's father's company. He is encouraging the company to take control of farming land across the world. The controversy is, of course, that a corporation will be in control of the land the country relies on for food. The company guy insists that the company is perfectly trustworthy and that those countries will benefit from the company's involvement. The odd thing is his specific words are that the company's "future profit lies in famine". Now if the scheme is to provide food to hungry people, that's not famine at all. That's pretty much the opposite of famine. And the company guy keeps using the word 'famine' in order to ensure we all know who he is supposed to be, but for the people around him the use of that word makes no sense in the context. - Seriously annoying!




Overall though this was a really good film and, mostly thanks to the actor playing Damien, I actually preferred this to the first movie. Sure it's pretty much a repeat of the first movie, but the change in Damien's age makes Damien a more interesting central figure and tying the rise of the Anti-Christ to adolescence works very well thematically. If I'm right in thinking that "We Need To Talk About Kevin" takes some inspiration from "The Omen" then clearly the theme of child development is a very important one in this sort of story. The fear of Damien isn't just because he's a creepy child, but because he is growing into an even more dangerous man.

The work that "Damien: Omen 2" does on the character of Damien leaves a lot of interesting routes for development in later sequels. Unlike in the first movie Damien is now able to emotionally react to things that happen around him. There's some sign that his experiences will have a definite effect on him in the future. By the end of this movie there's more scope than ever for Damien as a complex character. As cheesy as "Damien: Omen 2" is, there's a lot going for it, even beyond the spectacular deaths (which are admittedly pretty cool).

B+


Previous reviews in this series include:
The Omen
Child's Play