Love Crime (2010)

Kristin Scott Thomas has suddenly revealed herself as an incredible actress in recent years. While she's had few roles in Hollywood and even her roles in British films have involved being withdrawn, the French film industry seems to now have a never ending supply of fantastic powerful roles for her. Two French films which particularly appealed to me in recent years were "I've Loved You So Long" where she plays a woman going to stay with her sister after a long absence which no one feels comfortable to talk about and "Sarah's Key" where she plays a journalist trying to uncover the story of a young girl who survived the roundup of Jews in France.

She's still taking roles in mainstream movies. Don't get me wrong. She appeared in the recent films "Bel Ami" and "Salmon Fishing in the Yemen". But her real powerhouse roles are coming from France. Albeit with the exception of "Only God Forgives" where she plays an utter monster of a human being and completely steals the show.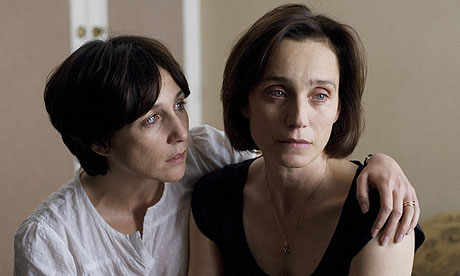 Above from left to right (presuming all pics display properly): Four Weddings And A Funeral, I've Loved You So Long, Sarah's Key, Bel Ami, Only God Forgives, Leaving

So now there's "Love Crime" which places Kristin Scott Thomas head-to-head with the young and glamorous Ludivine Sagnier. If anyone here saw that live-action version of "Peter Pan" she was Tinkerbell in that. I first saw her in François Ozon's Whodunnit musical-comedy "8 Women" and was very pleased with her appearance as the Countess in the much underrated "Molière".

The chemistry between Kristin Scott Thomas and Ludivine Sagnier is amazing. And right from the start we see a barely distinguishable ambiguity as to whether Kristin Scott Thomas' character is preparing a protégé in their business for future success or sexually harassing her. It's made clear that while this seems far from simply a professional relationship, Scott Thomas' character genuinely appears to be letting her guard down emotionally with Ludivine Sagnier's character in a way that she wouldn't with anyone else in the company. Ludivine Sagnier seems to admire her boss, but their relationship becomes highly emotionally charged with Kristin Scott Thomas asking Ludivine Sagnier to say "Je Vous Aime". This is notably more formal than "je t'aime" which you would say to a lover or family member, but still a strange thing to demand from an employee.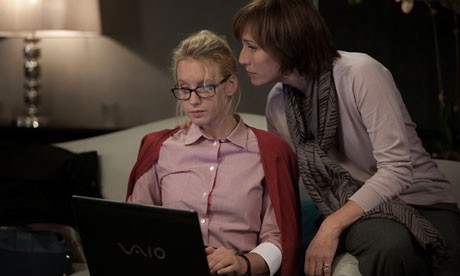 The interplay between their two characters is fascinating and Sagnier gives as good as she gets against Scott Thomas's absolutely incredible performance. Every scene the two actresses have together is an absolute joy to watch since there is so much subtlety in their expressions and body language. Also the script gives them plenty to work with and they take full advantage of the dramatic pauses and enigmatic remarks in their delivery.




It's worth comparing this with the recent remake that's being advertised right now. Sometimes a trailer for a remake will give you little idea as to what might have been changed, sometimes the trailer makes clear that the remake is a completely different type of film, but sometimes the trailer reveals something that is very clearly the same film only crass and overblown. I don't recommend anyone check out the trailer since it basically gives away the entire plot of both films. However, I think it shows why these sorts of roles are not generally available for actresses like Kristin Scott Thomas outside of the French market.




Renamed "Passion", the remake features Noomi Rapace (of "Girl With The Dragon Tattoo" fame) in the role of the younger more naive character played by Ludivine Sagnier. Meanwhile it features Rachel McAdams (from, um, "Mean Girls"?) as her older more established boss. Straight away this seems bizarre since Rachel McAdams is clearly the younger of the two. It's also notable that both acrtresses are almost 20 years younger than Scott Thomas. This should come as no surprise sadly. Hollywood is generally unwilling to give exciting roles like this to actresses in their early 50s, even when they are glamorous and enormously talented.



Left: Kristin Scott Thomas as a tough older businesswoman.
Right: Rachel McAdams as... a tough older businesswoman?

The trailer for "Passion" also features McAdams forcefully french kissing Rapace. A sight that might have sold a few extra tickets, but clearly lacking the subtlety of the relationship between Sagnier and Scott Thomas in "Love Crime".




Anyway, enough slagging off of films I haven't seen. Back to "Love Crime" which, I must now admit, is not flawless. While the scenes between Scott Thomas and Sagnier are amazing, there's a point in the film where Scott Thomas bows out for a large chunk of the runtime. During that time the film rests wholly on Sagnier's shoulders and that's not exactly a bad thing. Sagnier is great. But I felt upset that I couldn't continue to enjoy the interplay between them.




There's nothing wrong with the second half, but it's rather less of a novelty than the pairing of Sagnier and Scott Thomas in the first half. Overall though this was a really great little film and well worth giving a try. It's the sort of film that apparently Hollywood just can't handle and that's got to be a good reason to check it out right? In the end the two brilliant female leads are the main draw here and trust me, they do a fantastic job.

B+