The Omen III: The Final Conflict (1981)

This time Sam Neil takes on the role of Damien Thorne, the Anti-Christ. I was extremely excited about this piece of casting. Sam Neil has played evil (or at least highly villainous or disturbed) figures in plenty of other films I've seen before and I've loved it.

Event Horizon, Daybreakers, In The Mouth of Madness, and even John Carpenter's comedy with Chevy Chase "Memoirs Of An Invisible Man" have all showcased Sam Neil's ability to portray particularly sinister characters.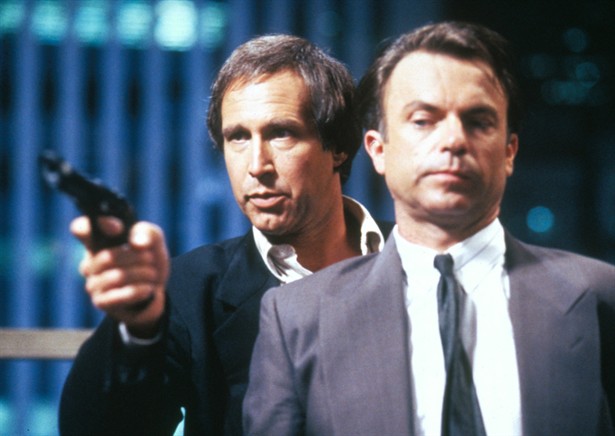 Still, the opening scene does not feature Sam Neil. The Final Conflict starts by showing us where the meggido daggers have got to. Anyone who has seen either of the previous two Omen movies will know that these are the only weapons that can kill the Anti-Christ.




After changing hands a number of times at an auction and through private sales, the meggido daggers eventually arrive in the hands of a group of poor monks in an obscure monastery. So yeah, this is totally realistic right? It's not like they'd end up in some rich guy's private collection. Heck, if anyone selling the daggers even knew what they were called, why didn't the rich businessman Damien Thorne end up discovering them? With just a little thought this opening is seeming all too unconvincing.

That being said, we should probably forgive this opening since the scenes of attempted assassinations using the meggido daggers are probably the best scenes in this film. While Damien's initial adopted father was told that he needed to stab Damien with every single one, the monks have clearly decided that one will be enough. (And apparently with the second coming of Jesus at hand, Damien's powers are weakened.)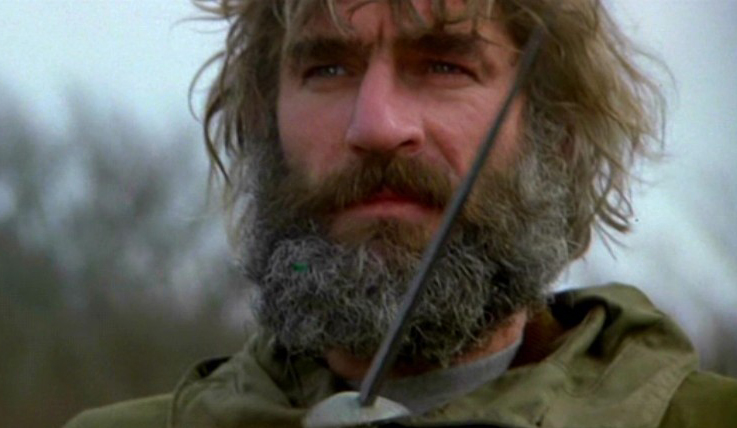 Our initial sighting of Sam Neil as Damien Thorne in this movie comes straight after we see a random short film-within-a-film being screened. The short film begins by informing us about the ice age, both under-estimating its length and over-estimating the devastation it caused. We are then informed that a more recent financial crisis is causing similar devastation in modern times (to which I find myself saying "no shit, Sherlock").

Finally we discover that this short film is in fact the worst advert ever seen. On the plus side, our first appearance of Damien Thorne allows him to complain at how awful it is, but that doesn't exactly make things better. I almost found myself pining for the comparative subtlety of the corrupt businessman in "Damien: Omen II" who would regularly inform people how he was going to "profit from FAMINE!!!". I don't care how dreadful your marketing department is. There's no way they are going to start an advert to promote how they are helping the poor victims of a global financial crisis by saying: "Hey, a global financial crisis is a bit like the ice age, isn't it?"

Presumably the writers thought this sounded clever. They thought they were tying the early years of humanity to the final years of humanity. Another way they try to tie things up is by returning Damien to England (just like where his adopted parents worked). Damien's found some random apocryphal scriptural text which predicts that he's going to fight the second coming of Jesus in England, so off he goes.




Here's the biggest problem with this film before it even gets started. Since we've shifted forward to Damien as a fully grown adult with the second coming at hand, we all know how it is going to end. In the first movie the filmmakers couldn't celebrate the murder of a child and in any case it was predicted in the Bible that the child would grow up to become the Anti-Christ. Now that Damien is an adult, those same prophecies which predicted his rise to power are pretty similarly certain of his defeat. Unless this movie can convince us that the Anti-Christ might defeat the second coming of Jesus (and naturally we are going to be pretty damn sceptical on this point, since those same prophecies seemed pretty reliable in the previous movies), then the fear built up in the last few movies simply isn't going to manifest itself.

If anything, all this talk about the imminent birth of what Damien calls 'the Nazarene' just serves to undermine the attempts on his life by the monks with the meggido daggers. I won't spoil how these encounters play out, except to say that one particular encounter ties in neatly with the way we've seen animals interact with Damien. (For example Damien gets on very well with dogs because dogs suck. No sign of cats, because clearly the Anti-Christ would hate cats. That's my ENTIRELY UNBIASED appraisal.,) Having returned to England he takes part in some fox hunting and so there are a range of animals around when the confrontation takes place. The Meggido dagger attacks are definitely my favourite parts of "Omen III: The Final Confrontation" and this attack during the fox hunt is probably my favourite moment in the film.

On the other hand we have the news that a strange movement in the stars points to the birth of Christ's second coming in England. So we have Damien the Anti-Christ, who was seeming pretty powerful and intimidating as a child in the previous two movies addressing quite a large crowd of followers and I'm afraid I found him a little pathetic. He basically says that he needs his followers to kill the Nazarene or they're all screwed. (Naturally they don't know which baby is the Nazarene, just the time at which it was supposed to be born. Anyone familiar with the birth stories of either Jesus or Moses can probably tell where this is going.) Now why does the Anti-Christ need his followers to kill someone? Well apparently the arrival of the Nazarene has dulled his powers somewhat. But yet even though we have a bunch of Satanists involved in widespread murder, we are expected to believe that somehow every single crime looked sufficiently like an accident.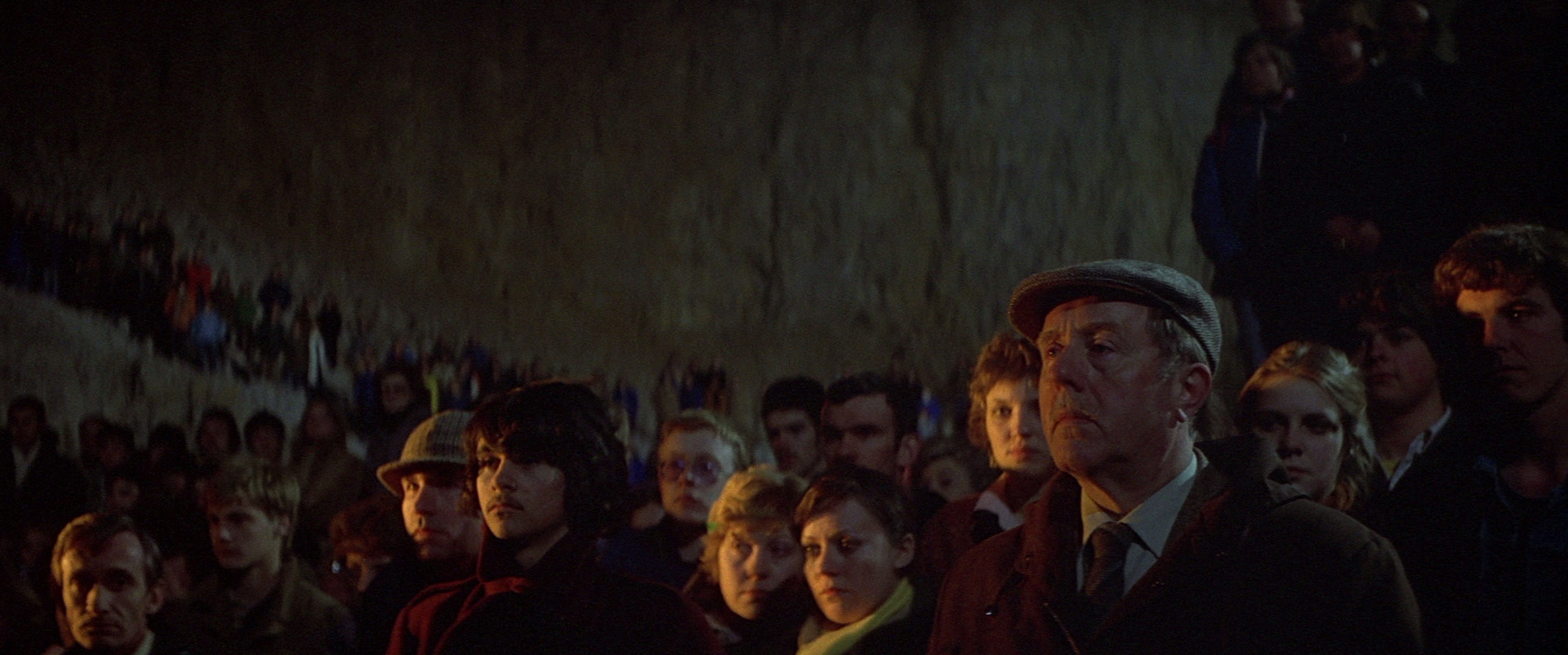 Damien's seeming over-reliance on his followers and the lack of supernatural deaths makes this a rather less intimidating version of The Anti-Christ. What's more Sam Neil doesn't really seem to have mastered his sinister performance at this stage in his career. That's not to say that he gives a bad performance, but simply that in later years Sam Neil gets a lot better at providing an intimidating onscreen presence and it's somewhat frustrating not to see the same level of presence here when it is so sorely needed to make up for some poor scripting decisions.




It should come as no surprise to hear that we have a Deus Ex Machina ending here, but it really does have all the negatives that term would suggest. On the one hand as a well-known two thousand year old prophecy which is clearly acknowledged from the start, this kind of ending has naturally been pretty well foreshadowed. Yet the way it is executed, while clearly intending to try to give us a bit of a surprise, ends up feeling like a massive cheat. Still, I suppose they didn't want to finish with a "Jesus Vs The Monster" type ending, no matter how cool that would have been and how obvious it seems to me that this is EXACTLY the kind of ending they should have gone for...


But yeah, they didn't do that...

C-

While the poster for Omen III clearly states that it is the end of the movie series, they don't actually finish there. There's yet another movie.



Omen IV: The Awakening (1991 TV Movie)

Okay, so as was made pretty clear in my last review because, let's face it, it's unavoidable: the third movie finishes with the second coming of Christ. Now the second coming of Christ is a pretty final thing. There's not really room for ANOTHER Anti-Christ once that's happened. So this movie basically ignores that entirely. So here we go again, with a brand new Anti-Christ figure...




The problem remains, where the hell did this new Anti-Christ come from anyway? The most obvious explanation would seem to be that Damien Thorne knocked up his girlfriend in the last movie, though the idea that she would ever have gone through with that pregnancy strikes me as unlikely. In the books that continued after the movie series had ended, it's made clear that the (awkward!) sex scene in "Omen III: The Final Conflict" actually involved anal sex. And the act of sodomy results in - um... - an anal birth. (Giving birth to "the abomination".) Somehow I'm kind of glad that isn't given as the explanation for why the new Anti-Christ figure, Delia, has turned up.




So yeah, this time the Anti-Christ is a girl. Sort of. Actually it's more than a little annoying. First we have a Catholic clergy man saying that there's no reason why the Anti-Christ couldn't be female. I was more than a little irritated by this liberal reading of scripture. That the Church would say on the one hand that there's no possible way that a woman could perform the role of priest, representing Christ to the congregation, and yet on the other hand say "oh sure, why NOT imagine that the Anti-Christ is female". UGH!!! And to make matters worse, the filmmakers aren't prepared to follow through with a female Anti-Christ. Oh sure, she's definitely evil, but she's not technically the Anti-Christ. There's a convoluted and stupid twist involved here which I won't spoil, but I'm afraid that while the priest in the story thinks that the Anti-Christ could be a girl, the filmmakers are apparently not so progressive.




I had lowered expectations for this because I know that this was originally intended as a tv series pilot. It only ended up being turned into a movie when they realised the series would not be picked up. As a result the powers displayed by the Antichrist aren't always so spectacular. For one thing there are practically NO animal-related deaths here. Most of the deaths here are heart attacks, but they just seem to happen randomly whereas in the movie even when resorting to heart attack as the cause of death there'd normally at least be an evil animal staring at the victims to give us some sense of cause and effect involved. There is, however, one death. At one point a figure from the movie is involved in a cult and is demonstrating how protected she is from evil by handling snakes. When it turns out that she wasn't really so protected after all, she ends up looking kind of silly to be frank.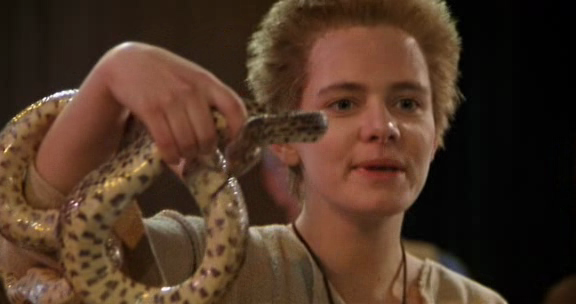 These snakes show how protected I am from evil. Clearly nothing can go wrong with this plan!

This is a terrible film. The line delivery is often flat. There's little success from the filmmakers in building up tension. The pacing is slow and unfocussed. But what you do have here is enjoyable snarking material. Sometimes little details can be utterly bizarre, like the private detective who brings a cat with him wherever he goes which often calmly paces or lies across the counter at bars. I mean seriously, even if you COULD get a cat to stick around at a bar counter, wouldn't you end up getting kicked out because of health and safety regulations? Heck, how would you even get the cat to come with you? Cats HATE being put in cages and I don't suppose they'd be that keen on having a leash put on either, so getting the cat from place to place would be hell.

But the most hilarious part of "Omen IV: The Awakening" is when Delia's evil powers are discovered by her hippy nanny. She first recognises Delia's power when her protective crystal is turned black. She actually turns out to have a whole draw full of massive crystals in her room. (Seriously, where does she keep all of her outfits if her chest of drawers is for massive crystals?) To make amends for trying to get Delia interested in her hippy crystal stuff and only getting an entirely negative reaction, the nanny tries to make up for this by taking her to... a psychic faire! Wow, sounds wonderful right? Can't imagine a child, particularly one who has so far insisted that hippy crystal stuff is BS, not being absolutely THRILLED at being taken to a psychic faire! *groan*



A photograph of her aura. Clearly damning evidence that the child is evil, right?

At the faire there is a guy lightly banging a gong, there's a stall selling tat like unicorn figurines, there's a stall where you can get your aura photographed and there's a whole bunch of people reading fortunes. Just like Chessington World of Adventures, eh? Oh, almost forgot, there's also a guy who juggles fire. Yay! Something actualy entertaining. It seems that in THIS psychic faire all the psychics are genuine. When Delia turns up, every single one of them starts becoming alarmed as her evil clouds their visions. Then when Delia gets angry that fire juggler suddenly turns out to be a bit of a safety hazard.




With her encounter with new agey stuff being the catalyst for Delia's mother's later suspicions that her child might be dodgy, she later takes a book about new age mysticism to her priest - and he talks about it as if the two belief systems are completely consistent. He doesn't really explain how, but we are given the impression that they must have discussed new age ideas together. But in the discussions on Catholicism, asides from possibly the idea that the Anti-Christ could be female (which is really not so liberal when you think about it), he seems to be pretty strictly towing the party line in regards to the Catholic faith.

I'll finish by referencing one more hilarious element in this film. The Satanic carol singers. One moment they are singing a carol. The next they are in white face paint singing about the Anti-Christ. Oh the cheese!




"Omen IV: The Awakening" is just as awful as you'd expect and even as snarking material it is slow and plodding. The supernatural deaths are pretty sparse and not always terribly satisfying. The acting is horrendous and the plot is laughable. But still, there are some watchable elements to it, so it's not exactly an abomination in spite of its massive massive flaws.

D-


Previous reviews in this series include:
The Omen
Child's Play
Omen II: Damien
Child's Play 2