I've needed a bit of extra time to get the reviews written for the last stretch of Nope-Tober, but sadly I didn't reach the full 31 movies by the 31st. I spent some time with my parents and they are rather more picky about their horror and weren't in the mood for a random Universal film. So just 29 films this year.
Still, I plan to carry on with the Universal films and I have a few
Post-Tober
films in order to finish up. I will start off
Post-Tober
with a rewatch of Gods And Monsters (about Frankenstein director James Whale), Plan 9 (Bela Lugosi's final film) and Young Frankenstein (a Mel Brooks spoof of the Universal horror films).
Best film: Misery
A rewatch after over 10 years and this holds up way better than I ever would have expected. A really gripping horror film and probably the best of the Stephen King adaptations.
Best classic Universal horror film (so far): The Old Dark House
Quite an awkward one to get hold of but a wonderful film about strangers finding shelter in a creepy house. And a fantastic comedy aspect here too.
Most 'out there' discovery (i.e batshit crazy film): Southbound
Some of the creators of the "V/H/S" film produce another anthology effort, this time with the stories more closely connected rather than on entirely separate videotapes. Creepy face masks, sinister 911 call operators and ghosts such as you've never seen before. Some real originality here.
Best surprise: A Horrible Way To Die
Reviews weren't great for this, nor for Adam Wingard's Blair Witch Project sequel (Blair Witch) which I have yet to see. I was beginning to worry that "You're Next" and "The Guest" might have been a fluke. So many cases where I've been excited for a quality filmmakers new release have led to disappointment: "Noah" (Darren Aronosky), "Get Santa" (Christopher Smith), "A Dame To Kill For" (Robert Rodriguez), I wasn't a fan of "Her" (Spike Jonze) and I still have as yet to find out whether I'll be as disappointed as most were with "Warcraft" (Duncan Jones). But it's great to see that this early 'before they made it big' entry from Adam Wingard is a real gem and I wasn't expecting that.
Best horror comedy: Abbott and Costello Meet Frankenstein
I mean sure, my favourite Universal horror film was also a horror comedy, but this was funnier and I feel it deserves special credit. My first Universal monster mash-up movie and I was very impressed by how well it all came together.
Worst film: April Fool's Day
Some are disappointed with the ending, but my real problem was everything that led up to it. I was told this was a horror comedy which probably put up my expectations. I found myself wishing I was watching "Black Christmas". Better kills, better characters, better story and actually a lot more fun than April Fool's Day.
Biggest disappointment: Dark Water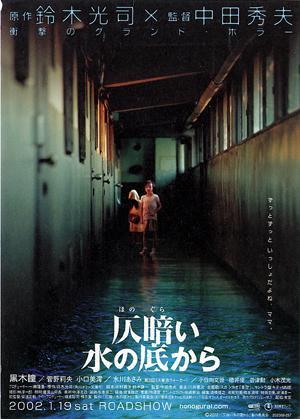 After my recent "Ring" movie marathon I'd become very impressed with Hideo Nakata and wanted to check out this classic Japanese horror movie that I'd missed before. Sadly, I just don't think it works. It's especially annoying because Hideo Nakata's wonderful filmmaking style is still present and I'm sure others out there will absolutely love it. The film just doesn't come together very well for me personally.
#22 The Invitation (2015)
Best thing: What an ending! It's always good when a film knows how to finish and knocks your socks off at the last minute rather than dragging things out.
Worst thing: The story gets a bit repetitive. Not badly. But the protagonist keeps getting reasons to be suspicious followed by reasons why he shouldn't be so suspicious. This back and forth builds up tension but it's unfortunate when the pattern becomes a bit too obvious.
A man still struggling after a tragedy and a divorce is invited to a reunion party by his ex-wife. It turns out she has discovered a bizarre self-help group to overcome her grief. The party seems strangely sinister, in part because of the odd over-friendliness of the hosts.
It feels like something must be wrong, but our protagonist's fragile emotional state makes him naturally insecure.
A very compelling horror with a tense and subtle build-up and a great payoff. Wonderful.
A+
#23 Late Phases (2014)
Best thing: A fantastic central performance of the badass blind war veteran.
Worst thing: Wouldn't the police be a little more concerned about an animal that can smash your door down?
A sense of fun and some great creature effects. This is another film I probably would have missed were it not for Letterboxd. There's a reason this is getting so many good reviews. It's a wonderful little film. If you liked Ginger Snaps you'll most likely love this.
Werewolves in the retirement community and a blind veteran who seems to be the only one who can work out what is happening. Our blind grumpy protagonist's abrasive attitude actually makes for a pretty compelling redemption story (of sorts).
Werewolves often don't look great, particularly in low budget features and I think even the cult favourite, Dog Soldiers, has this problem. Ginger Snaps also had its limitations. Late Phases has some exceptional effects work and also a pretty super transformation scene. Wonderful.
A+
#24 The Mummy (1932)
Best thing: Well clearly the best thing is Boris Karloff as the Mummy. I don't know about anyone else but I always grew up thinking of the Mummy as a zombie-like creature in bandages groaning and following Scooby Doo down a corridor. But all credit to the Stephen Sommers films for transitioning the mummy from the bandaged undead creature to a revived healthy-looking human being with special powers.
Worst thing: It becomes repetitive, with the female protagonist switching between lying down in a daze or wandering off to see the Mummy again. I found myself feeling like she should just be allowed to go to him. While it's stated pretty clearly that she is under a malign magical influence, the impression is often that she's met an exciting man who she would really like to see again and, in the meanwhile, she's kept essentially under house arrest by an unwanted admirer on the pretence that it's for her own good. I still feel that it's only a matter of luck that the boyfriend is correct in thinking she needs to be kept away from Imhotep. I think he'd be trying to keep her away from Imhotep regardless of whether she was being magically mind-controlled or not.
The Mummy suffers from being in incredibly slow and repetitive, but I do love Boris Karloff's performance as the villain. The opening is very cool but the rest of the film doesn't seem to know where to go next.
C+
#25 Dark Water (2002)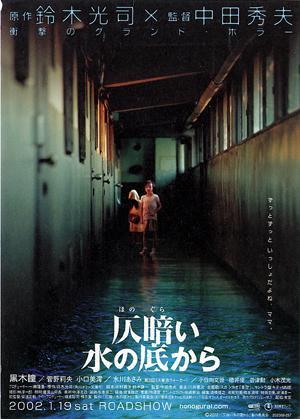 Best thing: Great atmosphere, themes, acting, build up.
Worst thing: Not really a horror film.
I've long had a problem with ghost films and I actually liked that Ring wasn't really following the format of a ghost story. Dark Water IS following that format though and it's one of those ghost films where the ghost presumably represents something in real life but I'm stuck as to what the message is meant to be.


If you take your ghost stories literally then you'll probably be annoyed. As someone who prefers when ghost stories are more allegorical, I found the message never seemed to move beyond "divorce sucks". Wouldn't this film have made that point more effectively without the leaky-ceiling ghost story?
Dark Water is really well made. I just have no clue what the point was. I simply don't get it.
D+
#26 Son of Frankenstein (1939)
Best thing: The performance by Basil Rathbone as the actual son of Dr. Frankenstein is great (and makes me think of Tom Hiddleston's performance in Crimson Peak), but the real star here is Basil Rathbone the inspector with the prosthetic arm who was once a victim of the monster.
Worst thing: Is the son of Frankenstein so stupid that he doesn't recognise when things are out of his control and he needs to come clean to the inspector? It would have been good if his stubbornness made more sense.
This film just started so well. The villagers are insanely suspicious of Frankenstein's son and the more they shun his father, the more inclined he feels to pursue his father's research. Igor is wonderfully creepy after his close brush with death on the noose. (Apparently everyone has forgotten that the character is called Fritz in the first Frankenstein film.) And the make-up job completely hid from me that it was Bela Lugosi providing this wonderful performance.
But after a while the film loses its way. The son of Frankenstein passionately pursuing his father's legacy is great, but when he is sitting around feeling unable to act for fear of being condemned by Igor's testimony, the film becomes rather dull.
Overall the first half makes this well worth checking out. If only it were a bit more consistent. One more thing to note though: I find it endlessly entertaining that the ultra-posh British parents have a child with what sounds to me like an American accent from the deep south.
B-
#27 Ghoulies 2 (1988)
Best thing: The Ghoulies tormenting people on the Ghost Train was brilliant.
Worst thing: There turned out to be absolutely no character arcs by the end of the film. Nothing that happened really matters to thr outcomes for the characters. When we began it seemed as if the film was about trying to produce a successful Ghost Train. By the end of the film that clearly isn't the aim anymore.
Great intro, a bit of a slow start, sone excellent antics in the middle and a rather uninspiring third act. Ghoulies is a seriously mixed bag.
This is certainly a massive step up from the first film, but it never really lives up to the opening scene. The characters aren't terrible but they have defining traits and not a lot beyond those. There's the man with dwarfism frustrated that he's not taken seriously as a Shakespearean actor, there's the drunk who feels like he's a burden and there's a morally unscrupulous rich guy exploiting his limited power. They are all admittedly more interesting as characters than anyone from the first Ghoulies movie, but there are no arcs for any of them.
When we reach the third act it's pretty obvious that we are simply wrapping up the story and while the effects work is fun it still makes for a pretty flat finale because there are no stakes beyond not wanting the characters to die (and it's pretty clear that they aren't going to be killed off).

I started Ghoulies 2 with such high hopes and there are some very fun moments, but it just runs out of steam.
C-
#28 Frankenstein Meets The Wolf Man (1943)
Best thing: The opening quarter of the film involving the reintroduction of The Wolfman was fantastic. Lon Chaney Jr is brilliant in the role as The Wolfman.
Worst thing: A medical doctor, Dr. Mannering, goes mad a little too easily. On top of that the film ends very abruptly.
The return of The wolf man is absolutely wonderful thanks to Chaney's super performance but I was wondering in the beginning how The wolf man would fit into a story about Frankenstein's monster. The answer is he doesn't really fit at all. There is no reason for Frankenstein's monster to appear in this film and yet I very nearly bought into it. The idea that Frankenstein's work on life and death might hold the secrets for allowing the wolf man to die almost works. But the logic becomes hazy and the filmmakers ditch this premise so they can finish with the showdown the audience is expecting.
Once again we have the wonderful sense of charm from the universal horror films. The pairing of Frankenstein's monster and The wolf man cannot help but make me smile. Sadly some unconvincing over the top villainy from one of the villagers and an all too abrupt ending prevent this from being one of the better universal horror films.
C+
#29 The Enfield Haunting (2015)
Best thing: All the performances are very effective and actually the film is directed very well. If only the subject matter weren't utter twaddle.
Worst thing: The film seems to want to have its cake and eat it. On the one hand it depicts something that simply has to be a real haunting. Characters witness and experience impossible things. Yet there's a sense that the characters know that it's probably not real and that maybe this is about something beneath the surface. However this can't be both a real haunting and an allegory. The way the film is set-up makes this impossible, particularly when
they bring back the medium for no reason other than to give Timothy Spall's character some closure. The last time the medium visited the haunted house she has terrified everyone. Why would they bring her back? Particularly when she herself said it was a bad idea. Yet Matthew Macfadyen's character mysteriously insists it is worth it and lo and behold, Timothy Spall's character benefits in a way that surely couldn't have been forseen. It was almost as if they staged that entire encounter for his benefit. If this is a story about people making things up, that calls into question everything we are shown.
Considering that I most often hate ghost stories, it's perhaps not surprising that the Enfield haunting didn't completely work for me. It was actually pretty well made, but I couldn't help but feel that its attempts to introduce ambiguity were surely only going to irritate everyone. If you believe in ghosts then it suggests people are making everything up, whereas if you don't believe in ghosts it just seems completely inconsistent.
Maybe it wasn't helpful that I kept imagining what would be really happening if there were no ghosts. Yet I think that is precisely what's the film makers expect us to do. When the mother explains, "There were more of us than you. You couldn't see everything," the suggestion is that she knows the children were tricking the paranormal investigators. It's a pity that they missed out the other part of the story I heard where the ghosts disappear because the children get really into the musical Grease (actually I've only heard that piece of trivia from Stuart NLA from the Now Playing podcast and I am as yet to find any mention of it anywhere else). It seems that essentially this is a story about a bunch of kids making stuff up, but I'm not entirely sure what point the film was trying to make about this. This is quite well made, but I can't help but feel like I'm missing the point.
C-